Hobie Pro Angler 14: Top 10 Reasons It Is My First Fishing Kayak
If you are like me, you are new to owning a fishing kayak. I researched what fishing kayak to buy, and the Hobie Pro Angler 14 kept popping up as a top choice.
I'll be honest with you: two factors made me hesitate about this choice: the weight and the premium price. At 140+ lbs, it would need some planning for one guy to launch and load this behemoth. And at $5,400, I would need to save.
I knew, being a big guy, I wanted a wide, stable kayak outfitted with a pedal drive for ease of getting around. I did my due diligence, rented several makes and models, and went fishing. This evaluation included everything from a Native Watercraft Titan and a Jackson Big Rig HD to the Hobie Outback and Pro Anglers 12 and 14.
With the Pro Angler 14, it was love on the first trip. Each of these brands and models turned out to be close in weight and price, a truly incredible experience and worth the money for me.
Previously, I hauled these kayaks in the bed of my truck with a bed extender, but the loading and unloading became tiresome over time. So, I decided to purchase a lightweight kayak trailer, which was another great choice!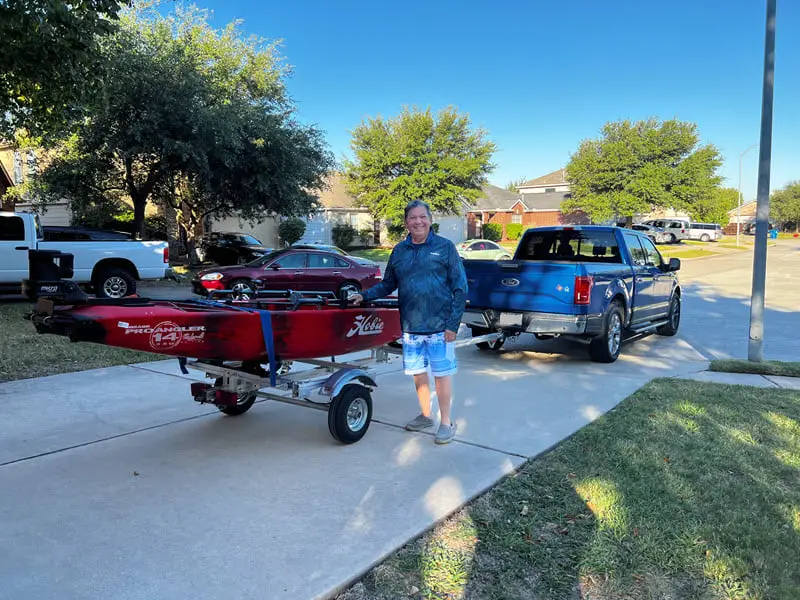 Below are the ten reasons why I decided to purchase the Hobie Pro Angler 360 and why it is the perfect fishing kayak for me.
1. It Is Incredibly Stable – Even In Rough Water
I have had my first fishing kayak for over two monts now and have been out six times. The first time I was in very calm water, I felt confident and safe. The second time was in some choppier water, and I felt the same.
This kayak is incredibly stable – even in rough water. I feel more comfortable in the 38″ cockpit and 14′ length than the other kayaks I tried. I can reach into the front hatch, turn around in my seat, reach into the back tank well, and stand up while fishing! All while feeling safe and not tippy at all.
No matter your size or how much gear you have, this kayak can handle it with a weight capacity of 600 pounds. I tried out some of the kayaks on the market designed specifically for bigger guys, and here are my thoughts.
2. The Seat Is Extremely Comfortable – Even After Hours On The Water
I remember the first time I rented a Hobie Pro Angler 14 from a local outfitter, and I was nervous about being out on the water for so long. But I knew I would be fine when I sat in the seat.
The seat was extremely comfortable – even after hours on the water. And the lumbar support made it easy to stay in one spot without getting sore. 
This seat was the most adjustable and the right height for balance and stability. And best of all, very easy to get out without rocking the kayak! 
Related Articles
15 Best Fishing Kayaks For Big Guys [2022]
Hobie Pro Angler 360 vs Pro Angler | All Features Covered
Is A Fishing Kayak With Pedals Worth The Price? (5 Reasons Explained)
What Is A Fishing Kayak And Its Best Features?
3. There Is Plenty Of Storage Space – Both In The Hull And All Around The Deck
One of the strongest reasons for choosing the Hobie Pro Angler was all the storage options. It has plenty of storage space both in the hull and around the deck so that you can bring all your gear.
The horizontal storage for 6 rods is a great feature I saw on the Hobie before the Jackson Big Rig came out. And the H-rail accessory mounting system lets you add even more gear.
The large tackle storage hatch at your feet is also a great touch, and the rubber mesh stowage pocket keeps everything organized. The large front hatch with a removable liner is perfect for storing your catch, and the entire kayak is highly stable and easy to maneuver.
4. It Tracks Well – Making It Easy To Move From Spot To Spot
I knew I wanted a kayak that would track well and quickly move from spot to spot. I chose the Mirage 360 drive for the smaller turn radius.
But my favorite feature for tracking is the skeg which makes peddling long distances more manageable, even in rougher waters. The rudder is also dual-controlled, making it easier to use.
5. The Pedal Drive System Means I Can Fish Hands-Free – A Huge Plus When I Am Trying To Land A Big One!
When I decided I wanted a fishing kayak, I started looking into the best options on the market. I quickly narrowed down my list of kayaks to a pedal drive. Why is the Hobie Pro Angler 360 worth your money? Check out some of its key features that set it apart from the regular Pro Angler.
I knew paddling was hard on my back, and my legs were strong enough to keep me out on the waters for hours. Another huge plus is that I can fish hands-free, which means I can concentrate on landing that big one!
The pushing motion of the Hobie Mirage drives it a much easier movement for my calves. The other kayaking manufacturers made a cycle-style drive which I liked less. I was getting calf strains using the cycle-style drives.
But the biggest issue I found with those is dragging the drive abruptly on the bottom in shallow waters. The Mirage drive kick-up fins prevent damage or having to pull the drive out. I often had to pull out the drive with the Native Watercraft and the Jackson Kayaks. Seaweed and other aquatic plants would catch on the pedals, making it difficult to move forward and requiring stopping and removing. Seaweed binding isn't an issue with the Hobie Mirage Pedal Drive System.
6. The Hull Design Cuts Through The Water Easily, Helping Me Cover More Territory In Less Time
I love my Hobie Pro Angler 14 because it's easy to get around. The hull design cuts through the water quickly, helping me cover more territory in less time.
It also helps with tracking and displaces water efficiently. And because it's stable, I don't have to worry about tipping over. Plus, it's just a fun kayak to peddle!
7. It Comes With Lots Of Extras, Like Built-In Rod Holders, Tackle Box And Cup Holder
The extras and add-ons of the Hobie Pro Angler 14 are great. The built-in rod holders tackle boxes, and cup holders are all convenient. The sturdy handles in the front and back make moving it more manageable.
I added a Power-pole Micro Anchor to the stern, and it installs nicely. Plenty of bungee cords and a live well-ready tank well.
8. I Can Stand Up In It If I Want (And Sometimes I Need To!)
The best way to sight fish for redfish is from a kayak. The higher vantage point gives me a better view of the fish. The best kayak for sight fishing is the Hobie Pro Angler 14 because I found it more stable than other wide kayaks I tried.
I can stand up in it if I want to, and sometimes I need to stretch my legs or get into my storage. Standing up allows me to reach into my front storage or behind my seat without contorting my body. I often stay in one spot for long periods while sight fishing. So being able to stand up and move around a bit is essential too.
9. It Is Relatively Lightweight Compared To Other Kayaks Its Size – Making It Easy For Me To Transport Alone
I use my Hobie Pro Angler 14 quite frequently. It's one of the best purchases I've ever made because it has many features. And when you consider everything that you get, the price is quite reasonable.
I looked at high-feature, lower-priced alternatives and kept returning to the Pro Angler because of its comfort, features, and durability. I don't regret my decision one bit.
10. It's Just Really Cool! Everyone Who Sees It Wants To Take A Ride!
The Hobie Pro Angler 14 is a favorite among beach-goers for its sleek design, easy maneuverability, and cool factor. Once you've experienced the Pro Angler 14, you'll understand why everyone who sees it immediately wants to take a ride.
Conclusion
So, after much deliberation (and a lot of test fishing), I decided to buy the Hobie Pro Angler 360. And I am so glad I did! It is an incredibly stable kayak that is perfect for both freshwater and saltwater fishing.
The seat is extremely comfortable, there is plenty of storage space, and it tracks well – making it easy to move from spot to spot. The pedal drive system also means I can fish hands-free – a huge plus when I am trying to land a big one! Plus, it comes with lots of extras, like built-in rod holders, tackle box and cup holder. And if that's not enough, I can even stand up in it if I want (and sometimes I need to!).
In short, the Hobie Pro Angler 360 has everything you need for a successful day on the water – no matter what type of fishing you are into.